Conwy Castle
Conwy Castle possibly the most magnificent of Edward I's castles.
Conwy Castle

Built for Edward I, by Master James of St George, the castle is amongst the finest surviving medieval fortifications in Britain. In a word, exceptional. You can't fault it, from the grandeur of its high towers and curtain walls to its excellent state of preservation.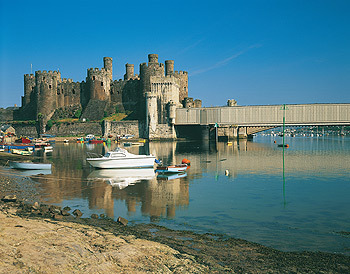 An estimated £15,000 was spent building the castle, the largest sum Edward spent in such a short time on any of his Welsh castles between 1277 and 1307. Money well spent.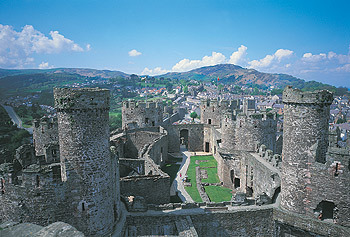 Two barbicans (fortified gateways), eight massive towers and a great bow-shaped hall all sit within its distinctive elongated shape, due in part to the narrow rocky outcrop on which the castle stands. You won't find Edward's concentric 'walls within walls' here. They weren't needed. The rock base was enough security in itself.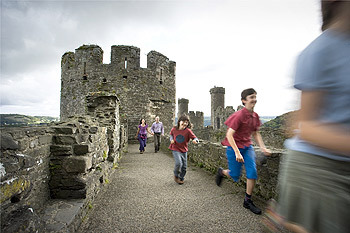 If outside impresses (and it will), wait until you go in. With an outer ward containing a great hall, chambers and kitchen, and a more secluded inner ward with private chambers and a royal chapel, it is very easy to imagine how Conwy functioned when the royal entourage were in town.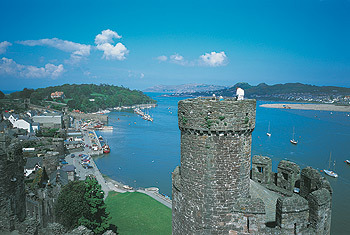 Some say it is the most magnificent of Edward I's Welsh fortresses. We tend to agree. To get the full picture head for the battlements. Breathtaking views across mountains and sea.
Conwy Castle Statistics: 287 click throughs, 9819 views since start of 2023
Attraction in
Conwy
Conwy
Entrance Charge

Adults £4.60 Reduced Rate £4.10
Family Ticket £13.30 (admits 2 adults & all children under 16)
Children under 5: FREE
Under 16s must be accompanied by an adult. Prices valid until 31st March 2010. Assistance dogs only. No smoking.

Opening Times

Last admission 30 mins before closing. 1 Apr-31 Oct 09: daily 9am-5pm. 1 Nov 09 -31 Mar 10: Mon-Sat 9.30am-4pm; Sun 11am-4pm Closed: 24, 25, 26 Dec, 1 Jan

Conwy Castle

Our Website

News & Special Offers