Mountain Biking in the Gwydyr Forest
Mountain Biking in the Gwydyr Forest Betws-y-Coed
Gwydyr Forest is right on the doorstep of Betws-y- Coed, the undisputed outdoor capital of North Wales. Situated in the heart of the breathtaking scenery of the Snowdonia national park yet less than an hour from English motorways.
The Gwydyr trail, built in association with Marin bikes, leaves from Gwydyr Forest centre, a couple of miles north of town. Long challenging climbs lead to miles of brand new technical singletrack weaving through trees and boulders, across streams and down snaking ridge lines to get your heart and brakes pumping. Alternatively you can explore the hundreds of km of fire road trails yourself.
Whichever you choose, cascading waterfalls, crystal clear lakes, awe inspiring mountain vistas and forgotten river valleys deep in the Gwydyr forest provide a stunning scenic backdrop.
Betws-y-Coed itself is packed with cafes, restaurants, pubs and outdoor shops as well as an excellent bike shop and a wide range of accommodation in the town and local area.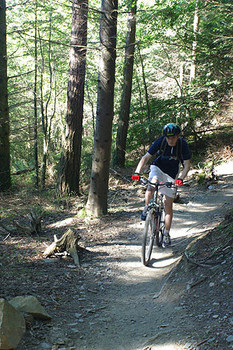 There is so many miles of biking in the area that you really should stay for at least a few days. Betws-y-Coed and the surrounding towns and village; Trefriw, Llanrwst, Capel Garmon, Capel Curig, not forgetting Penmachno all have superb accommodation that offer a great welcome to Mountain Bikers (many of the owners are keen of a bit of single track after making the beds).

If you want to stretch your legs and lungs in serious scenery this is the place to come. Betws-y-Coed North Wales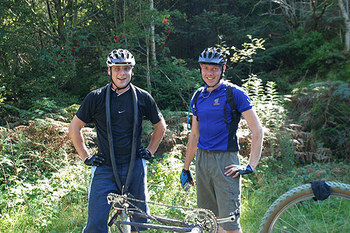 Gwydir Forest - The Marin Trail

Big climbs, big views, big descents, this trail has it all. It really feels like "proper" mountain biking as the climbs take you further into the forest, the views get more spectacular and the singletrack just gets better and better.

The trail starts at a small car park and there are no trailhead facilities such as toilets, so fill your water bottles before you leave home. This trail is remote and help could be a long time coming, so make sure you are equiped for any eventuality. Take plenty to eat and drink, some spares and tools and make sure someone knows where you are going and when you expect to be back.

Other people use these trails too, so please be polite and slow down for walkers and horses. Most of all have a great ride.
Distance : 25km
Climbing : 450m
Time : 2 - 4 hours
Grade : Difficult

Download the Marin trail map Mountain biking Marin Trail Map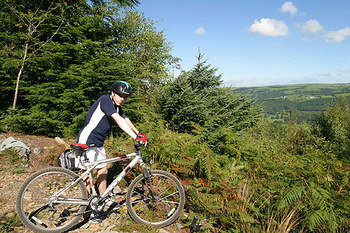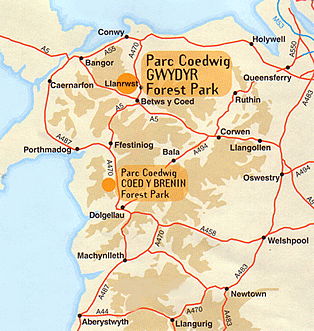 Mountain Biking in the Gwydyr Forest Statistics: 0 click throughs, 1637 views since start of 2023