Conwy Valley Railway Museum
The trains may be small but the thrill is enormous.
The Conwy Valley Railway Museum was originally formed by Alan Pratt in the early 70s with a small exhibition in one of the standard gauge bogie coaches. And the facility of a MK1 coach as a small Café providing tea, coffee and biscuits. The carriages being left on a section of one of the sidings in the old goods yard of Betws y Coed station.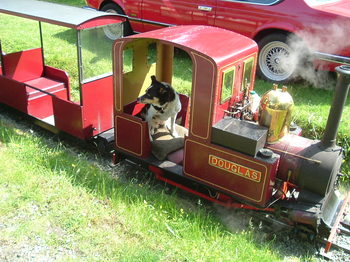 A museum building was added followed by the installation of a 71/4 inch gauge railway in the shape of a dogs bone loop.

In 1985 the company was acquired by Colin Cartwright and in due course the line was more than doubled in length, a large model shop was also added to the museum complex.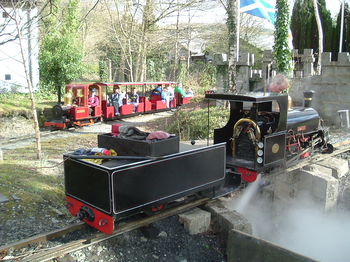 In order to cater for the older section of our communities and handicapped people a 15 inch gauge tramcar was built in Walsall on a chassis created by Brett Rogers and T.M.A. Engineering and a ½ mile length of track was laid parallel to the main line from Llandudno junction to Blaenau FFestiniog, providing us with the only station foot bridge in the United Kingdom to span three different gauges of 71/4 inch 15 inch and standard gauge.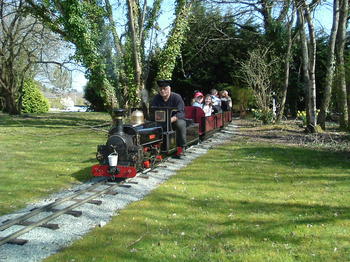 As traffic increased on the 71/4 line the north curve was extended and a passing loop was installed by the buffet coach.

Articulated coaches had been designed and built both twin sets and triple with sit in seating in preference to sit astride, giving more comfort and safety with a lower centre of gravity, with 2 of these sets having covered roofs passengers increased even in times of bad weather, as the railway and shop are open every day of the year excluding Christmas day.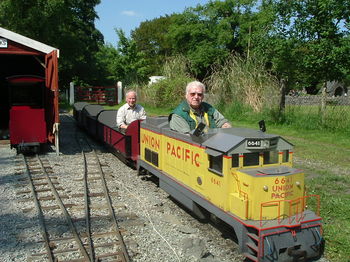 With the arrival of a splendid 15 inch gauge Britannia locomotive, the museum building was altered to accommodate the incoming track and a display site and several new showcases and layouts were also added at this time. The model shop was increased in size the following year.

Motive power at this time of operation consisted of 2 Denver C19 locos OLD RUBE and SHOSHONE both Milner/Simpkins locos,

SIAN a Tinkerbell by the late Keith Humphries, and a GP 40 Union Pacific by Roger Greatrex.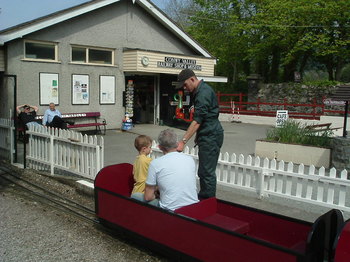 A BO-BO petrol Hydraulic Diesel loco was also acquired partly built and this was completed in our own comprehensive workshop.

Over the last 12 months a considerable amount of new rail of both steel and aluminium has been laid, all rails on the north and south curve's being replaced and rolled, with the last section of the original point rodding rails replaced by 4 Lb/yd steel rail in June also with re-ballasting through out we now have a line that gives an excellent ride. Two new sidings are in place at the station
Conwy Valley Railway Museum Statistics: 162 click throughs, 5636 views since start of 2023
Attraction in
Betws-y-coed
Conwy
Entrance Charge

No entrance charge
Charge for rides on the trains

Opening Times

Conwy Valley Railway Museum

The old goods yard

Betws-y-coed

Conwy

LL24 0AL

UK

Our Website

News & Special Offers